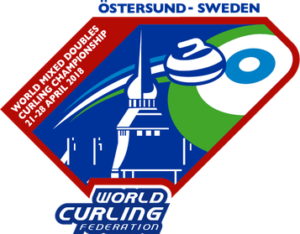 Team Canada has clinched one of the 16 playoff spots at the 2018 World Mixed Doubles Curling Championships in Oestersund, Sweden. On Tuesday, Canada defeated the Czech Republic 9-3 to become one of the first two teams to advance to the knockout stage.
It was an excellent start for Canada's Laura Crocker of Edmonton, Alberta and Kirk Muyres of St. Gregor, Saskatchewan. Crocker and Muyres stole two in the first end when Crocker had a great draw to the four foot and Czech Republic's Zuzana Hajkova was unsuccessful in her raise attempt.
Crocker and Muyres continued to put the pressure on Czech Republic throughout the rest of the game. They picked up four points in third end to take a 6-1 lead, stole another point in the fourth end to take a 7-1 lead and then picked up a deuce in the sixth end to go up 9-2.
The only other team that has clinched a playoff berth to date is South Korea. Like Canada, South Korea is also in Group E and share an unbeaten record with Canada of five wins and zero losses. South Korea plays Canada on Thursday morning at 4:30 am MT. Other teams unbeaten include the United States and Estonia at 5-0 and Switzerland and Norway at 4-0.