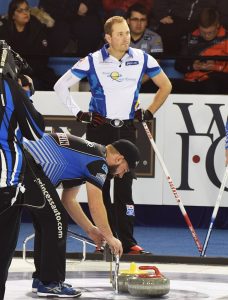 Team Canada beat Team Japan 6-3 on Monday at the 2023 World Men's Curling Championships in Ottawa, Ontario. With the win, the Canadian team skipped by Canadian Olympic gold medalist Brad Gushue of St. John's, Newfoundland, improved to a record of three wins and two losses. Gushue won the gold medal for Canada in men's curling at the 2006 Olympic Winter Games in Turin.
From a statistical standpoint, it was an exceptionally curled game by Canadian lead Geoff Walker of Beaverlodge, Alberta, who curled at 99%. Third Mark Nichols of St. John's, Newfoundland was at 95%, Gushue was at 94%, and E.J. Harnden of Sault Ste. Marie, Ontario curled at 83%. Like Gushue, Nichols and Harnden are Olympic gold medalists. Nichols won gold at the 2006 Olympic Winter Games in Turin and Harnden won gold at the 2014 Olympic Winter Games in Sochi.
In Canada's win over Japan, Team Canada got two points with the hammer in the third and seventh ends. However, it was a remarkable double takeout by Gushue in the eighth end which forced Japan to take one. It was one of the best shots in the entire World Men's Curling Championship so far.
Prior to Tuesday, Canada beat Italy 10-6 on Saturday and New Zealand 8-2 on Sunday. They lost 8-3 to Switzerland on Saturday and 8-6 to Norway on Sunday. It was a strong comeback by the Norwegian squad as they once trailed Canada 4-0.
Canada is currently in sixth place in the standings. Sweden is perfect in first place at five wins and zero losses. Switzerland and Norway are tied for second at four wins and one loss. Switzerland is in second place because they beat Norway 11-4 on Monday. Japan and Scotland are tied for fourth at three wins and one loss.