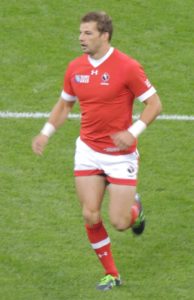 Team Canada is one win away from qualifying for the 2019 Rugby World Cup in Japan. On Saturday, Canada defeated Germany 29-10 in the last chance rugby qualification tournament in Marseilles, France. With the win, Canada improved their record to two wins and no losses and can qualify for the 2019 Rugby World Cup with a win over Hong Kong on Friday.
Four Canadians recorded tries in the Team Canada victory. They were Lucas Rumball of Scarborough, Ontario, Tyler Ardron of Lakefield, Ontario, Matt Evans of Vancouver, British Columbia and Gordon McRorie of Calgary, Alberta. McRorie also had three conversions and one successful penalty kick.
Hong Kong meanwhile improved to a record of one win and one loss on Saturday. They defeated Kenya 42-17 after losing 26-9 to Germany to open the tournament.
There is still a possibility that Canada could still qualify for the 2019 Rugby World Cup in Japan with a loss to Hong Kong. If Canada loses to Hong Kong by within seven points or lose to Hong Kong and score four or more tries, they will get a bonus point, which will also be enough. Canada currently is on top of the standings with 10 points. Hong Kong has five points, while Germany and Kenya are mathematically eliminated.