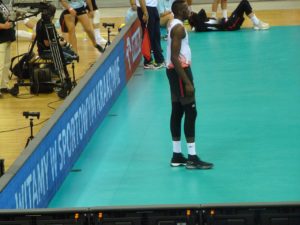 Team Canada won two of their three matches in the Volleyball Nations League this past weekend from the Toronto Dominion Place Arena in Ottawa, Ontario. On Friday, Team Canada swept Australia 25-23, 25-17, 25-18. They then beat Germany in five sets on Saturday, 23-25, 29-27, 25-18, 23-25, 15-12, before losing in five sets on Sunday to Serbia 25-17, 24-26, 25-21, 26-28, 15-12.
In Canada's win over Australia, Sharone Vernon-Evans of Scarborough, Ontario, led Team Canada with 20 points (18 from spikes and two from blocks). Vernon-Evans's 18 spikes also led Team Canada. Three other Canadian players reached double digits in scoring as Stephen Maar of Aurora, Ontario had 12 points and John Gordon Perrin of Creston, British Columbia and Graham Vigrass of Calgary, Alberta had 10 points each. Vigrass led Team Canada with three blocks and Brett Walsh of Calgary, Alberta led Canada with two aces.
In Canada's win over Germany, Vernon-Evans led Team Canada with 25 points (19 from spikes, one point from a block and five from aces). Vernon-Evans also led Team Canada with five aces. Three other Canadian players reached double digits in scoring as Nicholas Hoag of Sherbrooke, Quebec had 18 points, Vigrass had 15 points and Jason DeRocco of Winnipeg, Manitoba had 13 points. Walsh led Canada with four blocks.
After two full weekends of play, Canada has a record of four wins and two losses. They are currently tied with Italy and Poland for fifth place. Brazil is in first place with a perfect record of six wins and zero losses, while Iran, France and Brazil are in a three-way tie for second place with a record of five wins and one loss. The top five teams plus the United States qualify for the final round in Chicago from July 10-14.