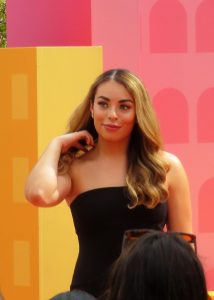 Team Canada has advanced to the semifinals of the 2023 Women's World Hockey Championships in Brampton, Ontario. On Thursday, Canada needed overtime, but came away with a 3-2 win over Sweden.
The Canadian hero was Olympic gold medalist Sarah Nurse of Hamilton, Ontario. At 4:26 of extra time, Nurse scored from fellow Canadian Olympic gold medalists Sarah Fillier of Georgetown, Ontario and Jocelyne Larocque of Ste. Anne, Manitoba. Nurse, in fact, scored two of Canada's three goals. The other Canadian goal scorer was Blayre Turnbull of Stellarton, Nova Scotia. Nurse, Fillier, Larocque and Turnbull won a gold medal for Canada at the 2022 Olympic Winter Games in Beijing. Larocque also won a gold medal for Canada at the 2014 Olympic Winter Games in Sochi.
Even though Canada beat Sweden 3-2, one must realize that Canada still out shot Sweden 54-14. Canada will next play Switzerland in the semifinals on Saturday. The other semifinal has the United States versus Czechia. In the other three quarterfinal games on Thursday, Czechia beat Finland 2-1, the United States blanked Germany 3-0, and Switzerland beat Japan 5-1. The fact the four winners on Thursday won the four quarterfinal games by a combined total of nine, is in fact excellent for the future of international women's hockey.