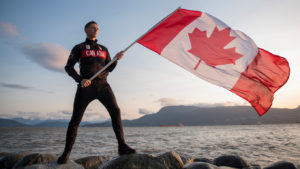 Team Canada is in the semifinals in men's field hockey at the 2019 Pan American Games in Lima, Peru. On Monday, Canada beat Trinidad and Tobago 5-1 in the men's quarterfinals. The winner of the Pan American Games tournament will participate at the 2020 Olympic Games in Tokyo.
In Canada's win over Trinidad and Tobago, captain Scott Tupper of Vancouver, British Columbia led Canada offensively with two goals. Tupper made Canadian sports headlines prior to the Pan American Games when he was named the Canadian flag bearer in the opening ceremonies. The other Canadian goal scorers were Brenden Bissett, Iain Smythe and Mark Pearson. Bissett, Smythe and Pearson are also all from Vancouver.
In other action, Argentina throttled Peru 14-1, Chile shutout Mexico 2-0 and the United States beat Cuba 5-1. The men's semifinals take place on Thursday with Argentina facing the United States and Canada facing Chile.
Even if Canada does not win the gold medal at the 2019 Pan American Games, they still have a chance of getting through in the final stage of qualification. On the weekend of October 26-27 and again from November 2-3, seven nations will qualify from an Olympic qualification round. There will be seven series as teams will play back-to-back games against their opponents. The lucky seven squads also go to the 2020 Olympic Games in Tokyo.