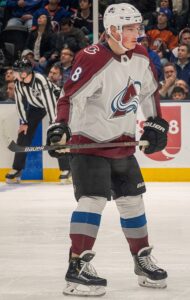 Cale Makar of Calgary, Alberta set the Colorado Avalanche franchise record for most assists in a playoff career by a defenseman. He accomplished the feat in a 4-1 Avalanche win over the Seattle Kraken on Friday with his 48th postseason helper.
Makar picked up the record assist with a secondary helper on a goal by left winger Artturi Lehkonen at 16:57 of the second period to put the Avalanche up 3-1. He then helped put the Avalanche up 4-1 with a primary assist on an empty net goal by Lehkonen with 12 seconds left in the contest to close out the scoring. Makar was one of two Canadian defenseman on the Avalanche with a multi-point game. The other was Devon Toews of Abbotsford, British Columbia, who also had two assists.
Makar now has 49 assists with the Avalanche in the playoffs. Sandis Ozolinsh had the old Avalanche record with 47 assists.
In Makar's playoff career, he has 16 goals and 49 assists for 65 points in 60 games. He is a +28 with 18 penalty minutes, six power play goals, one shorthanded goal, four game-winning goals, 160 shots on goal, 90 blocked shots, 84 hits, 55 takeaways, and 43 giveaways.
With the win over the Kraken, the Avalanche tied the best out of seven Western Conference first round playoff series at three games apiece. Game seven is Sunday.