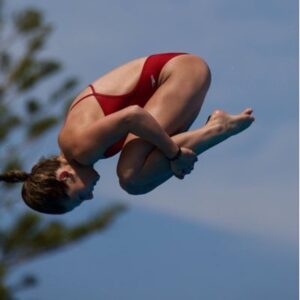 Caeli McKay won her second medal on Wednesday at the 2021 Diving World Cup in Tokyo, Japan. McKay, who won a bronze medal in the women's 10-metre individual platform competition,  delivered a gritty performance, as she got off to a poor start, but improved as she went along and climbed her way on to the podium. She previously won a gold medal with three-time Olympic bronze medalist Meaghan Benfeito of Montreal, Quebec in the women's 10-metre synchronized platform competition this past Sunday.
McKay posted a third-place score of 338.55 points. Pandelela Pamg of Malaysia won the gold medal with 355.7 points and Matsuri Arai of Japan won the silver medal with 342 points. McKay earned a medal by 4.65 points over Andrea Spendolini Sirieix of Great Britain, who had a fourth-place score of 333.9 points.
McKay had an opening dive of only 51 points. However her final dive was 81.6 points which allowed her to pass Spendolini Sirieix and reach the top three.
In all, Canada won five medals at the 2021 Diving World Cup. In addition to the two medals McKay won (one individually, and one with Benfeito), Jennifer Abel of Montreal, Quebec, and Melissa Citrini-Beaulieu of Saint-Constant, Quebec won silver in the women's three-metre springboard, Vincent Riendeau and Nathan Zsombor-Murray of Montreal won bronze in the men's 10-metre synchronized platform, and Rylan Wiens of Regina, Saskatchewan won bronze in the men's 10-metre platform.  Before Canadian diving fans get all excited, China did not send a full team to the event, and will be considered the favourites in each diving event at the 2021 Olympic Games in Tokyo.