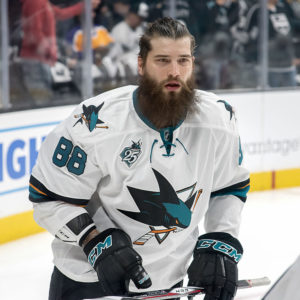 Brent Burns of Barrie, Ontario had a National Hockey League career playoff high four points on Friday as the San Jose Sharks defeated the Colorado Avalanche 5-2 at the SAP Center in San Jose, California. Burns had one goal and three assists as the Sharks took a 1-0 lead in the Western Conference semifinal best out of seven series.
Burns was one of two Canadians with a multi-point game. The other was Canadian Olympic gold medalist Joe Thornton of St. Thomas, Ontario. Thornton, who had one goal and one assist for two points, won a gold medal for Canada at the 2010 Olympic Winter Games in Vancouver.
Burns recorded his first point with an assist on a goal by Gustav Nyquist at 14:44 of the first period to tie the game at one. Logan Couture of Guelph, Ontario recorded the other assist. Thornton then tied the game at two with a goal from Marcus Sorensen at 10:05 of the second period. Then at 16:02 of the second period, Burns assisted on the game winning goal by Kevin Labanc which put the Sharks up 3-2. San Jose would go up 4-2 on a goal by Burns from Sorensen and Thornton with one minute left in the second period. Burns would collect his fourth point with an assist on a goal by Timo Meier with 29 seconds left in the third period to put the Sharks up 5-2.
In other action, the Carolina Hurricanes defeated the New York Islanders 1-0 with an overtime goal by Jordan Staal of Thunder Bay, Ontario. Staal scored from Nino Niederreiter and Brett Pesce at 4:04 of the extra period to put Carolina up 1-0 in the Eastern Conference semifinal.