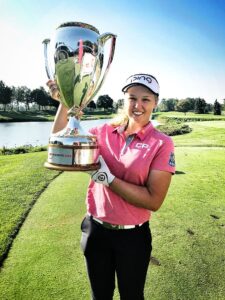 Brooke Henderson of Smiths Falls, Ontario had a solid first round at the 2023 Women's PGA Championship in Springfield, New Jersey. On Thursday, she posted a score of -4, and is only one stroke back of the leader, Lee-Anne Pace of South Africa, who is at -5.
Henderson had five birdies and one bogey. She birdied the first, sixth, ninth, 11th, and 16th holes. Henderson's lone bogey was on the par four 15th hole, where she posted a score of five.
Pace also had five birdies on Thursday. The difference was the fact she did not have a bogey.
Henderson is currently tied for second place alongside China's Xiyu Lin and China's Ruoning Yin. In fifth place is Thailand's Wichanee Meechai at -3. Then there are six players tied for sixth place at -2. This group consists of Norway's Celine Borge, Ireland's Leona Maguire, Japan's Ayaka Furue and Yuka Saso, South Korea's Jenny Shin, and Germany's Esther Henseleit. Like Henderson, Saso is a major champion as she won the 2021 United States Women's Open while representing Philippines.
Henderson is looking for her third career major title. She previously won the 2016 Women's PGA Championship and the 2022 Evian Championship. Henderson has also won 13 LPGA tournaments including one title in 2023. In January, she won the Diamond Resorts Tournament of Champions rather convincingly in Orlando, Florida.