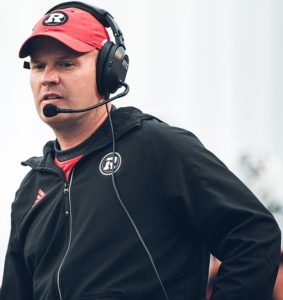 The British Columbia Lions  named Rick Campbell of Spokane, Washington their head coach on Monday. Campbell replaces DeVone Claybrooks, who was fired from his position as Lions head coach on November 6 after just one season at the helm.
The Lions become the second team that Campbell has coached for in his Canadian Football League career. He previously coached the Ottawa Redblacks from 2014 to 2019. In his six seasons in Ottawa, the Redblacks made the playoffs four times. That feat is rather impressive when you consider the fact that Ottawa was an expansion franchise when Campbell first started coaching for them.
In three of those six years, Campbell also took the Redblacks to the Grey Cup. In 2016, Ottawa won the CFL's greatest prize despite the fact that Ottawa had a losing record in the regular season at eight wins, nine losses and one tie. Ottawa defeated the Calgary Stampeders 39-33. Ottawa previously lost the 2015 Grey Cup by a score of 26-20 to the Edmonton Eskimos and also lost the 2018 Grey Cup by a score of 27-16 to the Stampeders.
The 2016 Redblacks were one of only three teams in CFL history to win the Grey Cup despite having a losing record in the regular season. They had a regular season record in 2016 of eight wins, nine losses and one tie. The other teams to have a losing regular season record and win the Grey Cup were the 8-10 British Columbia Lions in 2000 and the 8-10 Calgary Stampeders in 2001. The Lions beat the Montreal Alouettes 28-26 in 2000 and the Stampeders beat the Winnipeg Blue Bombers 27-19 in 2001.
The Lions will look to bounce back after a disappointing 2019 CFL regular season. They finished last in the Western Division with a record of five wins and 13 losses.