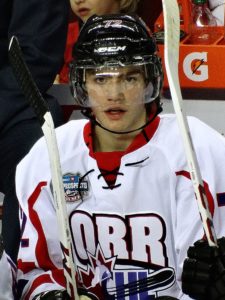 Brayden Point of Calgary, Alberta, and Alex Killorn of Halifax, Nova Scotia each had multi-point games for the Tampa Bay Lightning in a 5-4 overtime win over the Dallas Stars on Friday in game four of the 2020 Stanley Cup Final from Rogers Place in Edmonton, Alberta. With the win, the Lightning are now one game away from winning their second Stanley Cup in franchise history.
Point notched two goals, while Killorn had one goal and one assist. Point's first goal put Tampa Bay on the scoreboard with 33 seconds left in the first period from Ondrej Palat and Kevin Shattenkirk, after the Stars went up 2-0. Point then tied the game at two goals apiece with a power play marker from Killorn and Nikita Kucherov at 2:08 of the second period.
Killorn's other point came in the third period on a goal from Anthony Cirelli of Woodbridge, Ontario and Mikhail Sergachev. At the time, the Stars went up 4-3.
Killorn and Point were two of five Lightining players to record a multi-point game. The others were Kevin Shattenkirk (one goal and one assist), Kucherov (two assists), and Mikhail Sergachev (two assists). Shattenkirk scored the overtime winner from Victor Hedman and Patrick Maroon at 6:34 of the extra period.
Game five of the Stanley Cup Final is Saturday. The Lightning can win the series with a victory as they currently lead the best out of seven series three games to one.