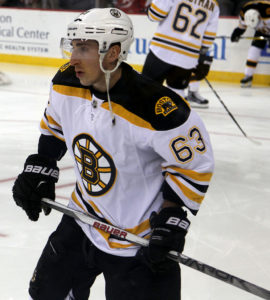 Boston Bruins left winger Brad Marchand of Halifax, Nova Scotia was named the National Hockey League's first star of the week on Monday. Marchand, who was recognized for his offensive excellence from October 21-27, 2019, had three goals and five assists for eight points in three games.
Marchand had one goal and one assist for two points in a 4-2 Bruins win over the Toronto Maple Leafs on October 22, one assist in a 3-0 Bruins win over the St. Louis Blues on October 26, and then went completely off with his Bruins linemates Patrice Bergeron of L'Ancienne-Lorette, Quebec and David Pastrnak in a 7-4 Bruins win over the New York Rangers on October 27. In that one game alone, Marchand had two goals and three assists.
Marchand is one of only three players to have points in a game this season. The other two players are Edmonton Oilers center Connor McDavid of Richmond Hill, Ontario, who had one goal and four assists in a 6-3 Oilers win over the Philadelphia Flyers on October 16, and Pastrnak, who had five assists in the Bruins win over the Rangers on Sunday.
One could argue that the Marchand/Bergeron/Pastrnak line is the best line in the NHL at the moment. Two of the players on this special Bruins line are Canadian. After the Bruins' 5-1 win over the San Jose Sharks on Tuesday, they have the second best record in the NHL. Only the Washington Capitals at 21 points, have more points than the Bruins.