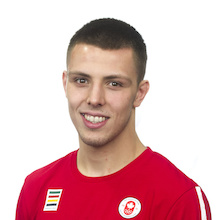 Canadians came away with two medals on Saturday at the 2019 Abu Dhabi Grand Slam Judo competition from the United Arab Emirates. Arthur Margelidon of Montreal, Quebec won a silver medal in the men's 73 kilogram division and Shady El Nahas of Toronto, Ontario won the bronze medal in the men's 100 kilogram division.
In the men's 73 kilogram division, Margelidon won Pool B with wins over Sulaiman Hamad of Saudi Arabia, Alexandru Raicu of Romania and Tsogtbaatar Tsend-Ochir of Mongolia. He then beat Khikmatillokh Turaev of Uzbekistan in the semifinal before losing to Bilal Ciloglu of Turkey in the gold medal match. Turaev and Igor Wandtke of Germany each won the bronze medal.
In the men's 100 kilogram division and under division, El Nahas also won Pool B. He beat Oleksii Lysenko of Poland, Simeon Catharina of the Netherlands and Philipp Galandi of Germany. Then in the semifinals, El Nahas lost his only match in the competition as he was beaten by Guham Cho of South Korea. Then in the repechage, El Nahas won one of two bronze medals as he beat Hussain Shah Shah of Pakistan in one of two bronze medal matches. Cho won the gold medal, Zelym Kotsoiev of Azerbaijan won the silver medal and Arman Adamian of Russia won the other bronze medal. The silver medal for Margelidon and the bronze medal for El Nahas will give them confidence as they prepare for the 2020 Olympic Games in Tokyo.