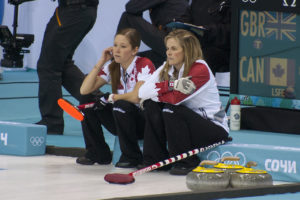 We now know the men's team and the women's team that will be representing Canada in curling at the 2022 Olympic Winter Games in Beijing.  On Sunday from Saskatoon, Saskatchewan, Team Jennifer Jones of Winnipeg, Manitoba won the Canadian Women's Olympic Curling Trials, and Team Brad Gushue of St. John's, Newfoundland won the Canadian Men's Olympic Curling Trials.
In the women's final, Jennifer Jones defeated Tracey Fleury of Sudbury, Ontario 6-5 in 11 ends. In the ninth end, Jones decided to give Fleury a point so she could maintain the hammer in the 10th end. When Jones attempted her final shot, she had a chance to win by scoring two points. However, she hit the Fleury stone and rolled too far. This allowed Fleury to win in an extra end with the hammer. However with Fleury's final shot, she hit her own guard, giving Jones the one-point win.
The Jones team will represent Canada at the 2022 Olympic Winter Games in Beijing despite having three losses in the Olympic Curling Trials. Meanwhile, this was Fleury's first loss. This was the second consecutive Canadian Olympic Women's Curling Trials where the leader in the round robin had a record of eight wins and zero losses before losing the final. In 2017 in Ottawa, Ontario, Chelsea Carey's only loss in the entire tournament came to Ottawa's Rachel Homan, by a score of 6-5 in the final.
On the men's side, Gushue defeated Brad Jacobs 4-3. Jacobs had an opportunity to tie the men's final at four points apiece, and force an extra end, but rolled too far, and allowed Gushue to get the win.
This will be the second time Jones and Gushue are representing Canada at the Olympic Winter Games. Jones won the gold at the 2014 Olympic Winter Games in Sochi, and Gushue won the gold at the 2006 Olympic Winter Games in Turin. As for Jones's third Kaitlyn Lawes of Winnipeg, Manitoba, she is going for her third straight gold medal in women's curling. In addition to winning gold as a third on Team Jones in Sochi, she was part of the Canadian team that won gold in mixed doubles with John Morris at the 2018 Olympic Winter Games in Pyeongchang.