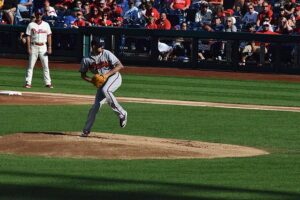 The Toronto Blue Jays were unable to re-sign two of their top free agents from 2021 in pitcher Robbie Ray (signed with the Seattle Mariners), and second baseman Marcus Semien (signed with the Texas Rangers), but the team has done a pretty good job in free agency to date. On Sunday, according to David Corcoran of Fansided, Toronto signed relief pitcher Yimi Garcia to a two-year deal worth $11 million, and then according to David Schoenfield of ESPN, signed starting pitcher Kevin Gausman to a five-year contract worth $110 million.
Garcia will be joining his fourth Major League team. He has previously played for the Los Angeles Dodgers, Miami Marlins, and Houston Astros. In 2021, Garcia shared his time with the Marlins and Astros. In 62 games, he had a record of four wins and nine losses, with an earned run average of 4.21. In 57 2/3 innings pitched, Garcia had 15 saves, and gave up 49 hits, 27 earned runs, and 18 walks, along with 60 strikeouts. He also had a WHIP (walks and hits per innings pitched) of 1.16.
Gausman will be joining his fifth Major League team. He has previously played for the Baltimore Orioles, Atlanta Braves, Cincinnati Reds, and San Francisco Giants. In 2021, Gausman was a National League All-Star with the Giants. He led the Major Leagues with 33 starts. In 192 innings pitched, Gausman had a record of 14 wins and six losses, and gave up 150 hits, 60 earned runs, and 50 walks, along with 227 strikeouts. He also had a WHIP of 1.04.
Known for his endurance, Gausman has led Major League Baseball twice in his career in game starts. He also led MLB with 34 game starts with the Orioles in 2017.