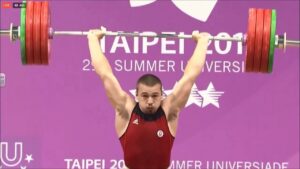 According to Chloe Morrison of the Canadian Olympic Committee on Monday, Boady Santavy of Sarnia, Ontario won a silver medal in the snatch of the men's 96 kilogram division at the 2021 World Weightlifting Championships in Tashkent, Uzbekistan. Santavy was able to lift 178 kilograms on Tuesday, December 14, to finish second in the competition.
Lesman Paredes of Colombia won the gold medal by lifting 187 kilograms, and Keydomar Vallenilla won the bronze medal by lifting 177 kilograms. Santavy reached the podium by four kilograms. Georgii Kuptsov of the Russian Weightlifting Federation finished in fourth place with a lift of 174 kilograms.
When you added the snatch portion of the event, with the clean and jerk, Santavy finished in fifth place overall in the men's 96 kilogram division with a total of 379 kilograms. Paredes won the gold medal with 400 kilograms. Fares El-Bakh of Qatar won the silver medal with 394 kilograms. Vallenilla won the bronze medal with 391 kilograms.
This was the first medal for Canada at the World Weightlifting Championships since Canadian Olympic gold medalist Maude Charron of Sainte-Luce, Quebec won the silver medal in the women's 63 kilogram snatch division at the 2017 World Weightlifting Championships in Anaheim, California. Charron won the gold medal in the women's 64 kilogram division at the 2020 Olympic Games in Tokyo in 2021.