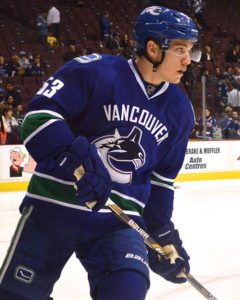 Bo Horvat of London, Ontario recorded his first National Hockey League hat trick on Wednesday. The newly appointed Canucks captain scored all of his goals in the third period as the Vancouver Canucks beat the Detroit Red Wings 5-2 at the Little Caesars Arena in Detroit.
The Canucks entered the third period against the Red Wings trailing 2-0. Then Horvat scored two power play goals in the first four minutes of the final frame. At 1:42 of the third period, Horvat scored from Elias Pettersson and Quinn Hughes to put Vancouver on the scoreboard. Then he tied the game at two goals apiece from Hughes and J.T. Miller at 3:13.
Jake Virtanen of Langley, British Columbia scored the game winning goal for the Canucks at 12:19 of the third period. Horvat's hat trick goal went into an empty net as the Red Wings had pulled goaltender Jimmy Howard. Horvat's third goal of the game came from Miller and Jordie Benn of Victoria, British Columbia. For Benn it was his second point of the game as he also picked up a secondary assist on Virtanen's game winner.
In nine games, Horvat now has five goals and one assist for six points. He is a +2 with two penalty minutes, three power play goals, 28 shots on goal, 97 faceoff wins, seven blocked shots, two hits, one takeaway and five giveaways.
The Canucks have got off to a great start. They have a record of six wins and three losses for 12 points and are in third place in the Pacific Division, and only three points back of the division leading Edmonton Oilers.