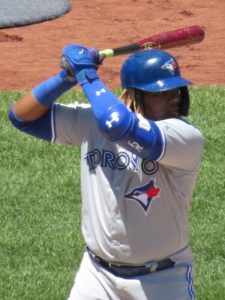 Toronto Blue Jays third baseman Vladimir Guerrero Jr. of Montreal, Quebec has been named the American League player of the week for the week from July 29 to August 4 on Monday. In six games, Guerrero Jr. batted .500 with three home runs and 11 runs batted in.
Guerrero scored five runs, 13 hits, three doubles and two walks in 26 at bats. In the four game series against the Orioles at Camden Yards this past weekend in Baltimore, Maryland, Guerrero had 10 hits, of which five were extra base hits.
On the season, Guerrero is now batting .274 with 13 home runs and 49 runs batted in. He is part of a Blue Jays squad that is in the process of rebuilding. There is no doubt that it is going to take some time, but there are some building blocks.
Blue Jays fans need to be very excited about the immediate offensive skills of shortstop Bo Bichette. In his first 10 games, Bichette is batting a remarkable .409 with three home runs and eight doubles. One could argue that Bichette has been even more impressive this past week than Guerrero.
The Blue Jays are at 47 wins and 70 losses. It was only three seasons ago that the Blue Jays made the postseason for the second straight year in reaching the American League Championship Series. One could argue it is realistic that the Blue Jays could be contenders for a playoff spot three years from now in 2022.