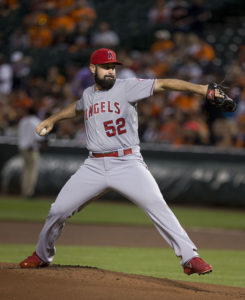 The Toronto Blue Jays signed starting pitcher Matt Shoemaker to a one year contract worth $3.5 million on Friday. This past season with the Los Angeles Angels, Shoemaker pitched in seven games and had a record of two wins and two losses and an earned run average of 4.94.
A major reason for the lack of starts is because Shoemaker had forearm issues. He underwent surgery in May. In 31 innings pitched in 2018, Shoemaker gave up 29 hits, 17 earned runs and 10 walks. Despite the rather high earned run average, and WHIP (walks and hits per innings pitched) in 2018, Shoemaker did average more strikeouts (33) than innings pitched for the first time in six Major League Baseball seasons.
The Blue Jays will be hoping that they get the 2014 version of Shoemaker, who led the American League with a .800 winning percentage while with the Angels. In 27 games, Shoemaker had a great record of 16 wins and four losses, an earned run average of 3.04 and a WHIP of 1.07. He also had 124 strikeouts and finished second in the American League rookie of the year voting behind Chicago White Sox first baseman Jose Abreu.
Expect Shoemaker to be the third Blue Jays pitcher in the starting rotation. At this time, he would be behind Marcus Stroman and Aaron Sanchez.