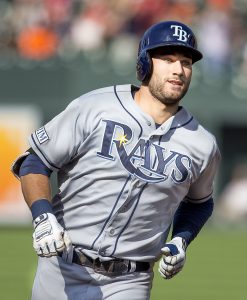 According to Matt Snyder of CBS Sports on Saturday, the Toronto Blue Jays signed centerfielder Kevin Kiermaier. The financial terms of the contract and the length of the deal have not yet been disclosed.
The Blue Jays become the second team Keirmaier has played for. He has played his entire career with the Tampa Bay Rays from 2013 to 2022.
This past year in Tampa, Keirmaier batted .228 with seven home runs and 22 runs batted in. He was limited to 63 games last season because of a hip injury. In 221 plate appearances and 206 at bats,   Keirmaier scored 28 runs and had 47 hits, eight doubles, six stolen bases, 14 walks, 76 total bases, a .281 on base percentage, and a .369 slugging percentage.
There is no doubt that Keirmaier is an upgrade to Teoscar Hernandez from a defensive standpoint. Keirmaier has won three gold gloves in his career (2015, 2016, and 2019), while Hernandez was best suited as a designated hitter in his time in Toronto. That said, the Blue Jays take a major step back from an offensive standpoint if they think Keirmaier can replace Hernandez in the lineup. Last season, Hernandez batted .267 (39 points higher than Keirmaier), with 25 home runs and 77 runs batted in. I know the Blue Jays needed bullpen help, as the bullpen was awful in the playoffs. That is why the Blue Jays acquired middle reliever Erik Swanson from the Mariners. There is hope by many, including me, that Keirmaier will be used as a fourth outfielder like Jackie Bradley Jr. was a year ago, and the Blue Jays are not done in finding another positional player.