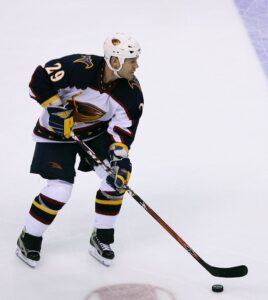 According to the Associated Press on Thursday, the Columbus Blue Jackets have named Brad Larsen of Nakusp, British Columbia their new head coach. Larsen takes over from John Tortorella, who "mutually parted ways" with the Blue Jackets on May 9. Tortorella had become the winningest head coach in Blue Jackets history with 227 victories.
Larsen had spent the last seven seasons as the assistant coach with the Blue Jackets. Interestingly, he had been the Blue Jackets assistant coach longer than Tortorella was head coach. Larsen was initially hired as the Columbus assistant coach on June 16, 2014, and worked under Todd Richards. Tortorella then replaced Richards for the 2015-16 season.
In addition to being an assistant coach with the Blue Jackets, Larsen had been the assistant coach of the Springfield Falcons of the American Hockey League for two seasons from 2010 to 2012, and then the Falcons head coach from 2012 to 2014. The Falcons were the affiliate of the Blue Jackets at the time.
As a player, Larsen spent eight National Hockey League seasons as a player with the Colorado Avalanche and Atlanta Thrashers from 1997 to 2008. A left winger, who was initially drafted by the Ottawa Senators, Larsen had 19 goals and 29 assists for 48 points in 294 regular season games.