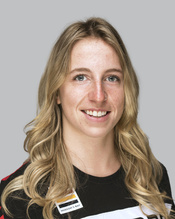 Canadian Olympic silver medalist Laurie Blouin of Stoneham-et-Tewkesbury, Quebec won a silver medal in a women's World Cup big air snowboarding event in Quebec City, Quebec on Saturday. It was the fifth time in Blouin's snowboarding career she won a medal, as prior to Saturday, she had won two World Cup medals in big air snowboarding and two World Cup medals in slopestyle snowboarding. It was in slopestyle snowboarding that Blouin won a silver medal at the 2018 Olympic Winter Games in Pyeongchang.
Blouin posted a silver medal winning score of 157.5 points. Julia Marino of the United States won the gold medal with a score of 162.25 points. Klaudia Medlova of Slovakia won the bronze medal with 122.5 points.
Blouin reached the podium by 75.25 points. Lia-Mara Boesch of Switzerland finished in fourth place with a score of 82.25 points.
This was the second time that Blouin won a World Cup women's big air snowboarding medal in Quebec. She previously won a silver medal on March 24, 2018.
The women's big air snowboarding season has come to a conclusion. The women's World Cup big air snowboarding champions were Reira Iwabuchi and Miyabi Onitsuka of Japan with 2400 points. Blouin was in fifth place with 1400 points. The silver medal for Blouin will give her confidence as she prepares for the 2022 Olympic Winter Games in Beijing.