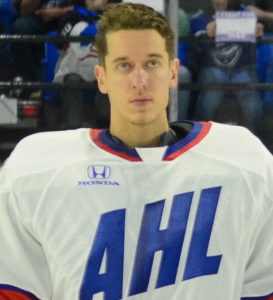 The St. Louis Blues are in a playoff spot in the National Hockey League's Western Conference and have goaltender Jordan Binnington of Richmond Hill, Ontario to thank. On Thursday, the rookie netminder recorded his second shutout as the Blues blanked and upset the Tampa Bay Lightning 1-0 at the Amalie Arena in Tampa, Florida.
Binnington made eight saves in the first period, 11 saves each in the second and third period and two saves in overtime for 32 saves overall. A Canadian also scored the game winning goal as Brayden Schenn of Saskatoon, Saskatchewan notched his 10th goal of the season with 59 seconds left in overtime from Colton Parayko of St. Albert, Alberta and Vladimir Tarasenko.
On the season, Binnington has a record of eight wins, one regulation loss and one loss in extra time. He has a goals against average of 1.70 and a save percentage of .931. Binnington's other shutout this season came in a 3-0 Blues win over the Philadelphia Flyers on January 7.
The Blues currently have the eighth and final playoff spot in the Western Conference. At 55 points, they have now won four straight, and have numerous teams battling them for a postseason berth. They are the Vancouver Canucks (55 points), Edmonton Oilers (53 points), Colorado Avalanche (53 points), Chicago Blackhawks (53 points), Arizona Coyotes (51 points) and Anaheim Ducks (51 points).