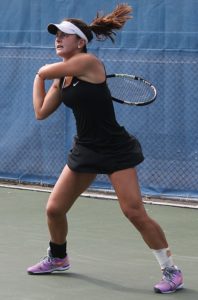 According to the Canadian Press on Sunday, Canadian women's tennis star Bianca Andreescu of Mississauga, Ontario has tested positive for coronavirus. Andreescu was to participate at the 2021 Madrid Open which starts on Thursday, but will no longer be entered in the draw.
Andreescu tested positive in Spain. She tested negative twice before flying to Madrid. There have been 3,488,469 cases of coronavirus in Spain, and 77,738 deaths. There are also 227,837 active cases of coronavirus in Spain.
This was to be the clay-court debut for Andreescu in 2021. Currently ranked sixth in the world, Andreescu has participated in three events this year. She reached the second round of the Australian Open before losing 6-3, 6-2 to Su-Wei Hsieh of Taiwan. Andreescu then made the semifinals of the Phillip Island Trophy event in Melbourne, Australia before losing to Marie Bouzkova of the Czech Republic, 6-7, 6-2, 7-5, and the finals of the Miami Open before losing to Ashleigh Barty of Australia, 6-3, 4-0. Andreescu pulled out because of an ankle injury she suffered in the final.
The next tournament for Andreescu is the Italian Open, which will start May 9 from Rome. Simona Halep of Romania is the defending champion. She reached the final three times in a span of four years from 2017 to 2020.