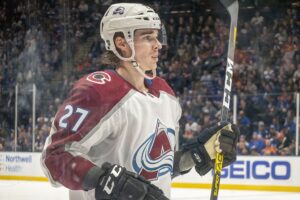 According to the Associated Press on Thursday, the Colorado Avalanche have traded defenseman Ryan Graves of Yarmouth, Nova Scotia to the New Jersey Devils for left winger Mikhail Maltsev and a second-round draft pick in the 2021 National Hockey League Draft. The Devils are sending the 61st overall pick to Colorado.
The Devils become the second team in Graves's career he has played for. The 26-year-old was initially selected by the New York Rangers in the fourth round, 110th overall, in the 2013 National Hockey League Entry Draft. However, Graves never played for the Rangers as he was traded to Colorado for defenseman Chris Bigras of Orillia, Ontario on February 26, 2018. The deal turned out to be a bust for the Rangers as Bigras never played with them, while Graves ended up playing three seasons with Colorado, including leading the entire NHL in plus/minus (+40) in 2019-20.
In 2020-21, Graves had two goals and 13 assists for 15 points in 54 games. He was a +15 with 55 penalty minutes, 101 shots on goal, 91 blocked shots, 77 hits, 18 takeaways, and 24 giveaways. Graves's regular season goals this past season came in a 4-1 Avalanche win over the Anaheim Ducks on April 11, and in a 5-2 Avalanche loss to the Vegas Golden Knights on April 28. In the 2021 Stanley Cup Playoffs, Graves had one goal and five assists for six points in 10 games. Maltsev meanwhile had six goals and three assists for nine points in 33 games with the Devils in his rookie season.