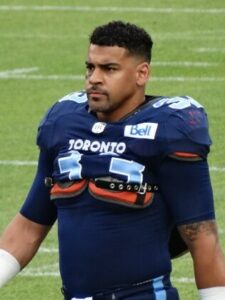 Andrew Harris of Winnipeg, Manitoba has had an absolutely brilliant Canadian Football League career. However, on Sunday he accomplished something he has not yet achieved, and that was to record a regular season rushing touchdown with his current club, the Toronto Argonauts. In a 32-14 Argonauts win over the Hamilton Tiger-Cats, Harris had four rushes for 24 yards and one touchdown.
Last season, Harris had 114 carries for 490 rushing yards in eight regular season games. He also had 23 catches for 180 receiving yards, but did not have a regular season major score. Harris did find the end zone for Toronto. However, it came in the playoffs, as he had nine rushes for 42 yards and a rushing touchdown in a 34-27 Argonauts win over the Montreal Alouettes in the Eastern Final on November 13.
Harris has 81 career touchdowns in his CFL career. Of the 81 touchdowns, 50 have been rushing touchdowns, and 31 have been receiving touchdowns. A total of 45 touchdowns have come with the British Columbia Lions and 35 touchdowns with the Winnipeg Blue Bombers. Now Harris has one touchdown with Toronto.
This was the Argonauts's first game of the season. They had a first round bye. In week two Harris was the only Canadian to record a victory and record a touchdown.