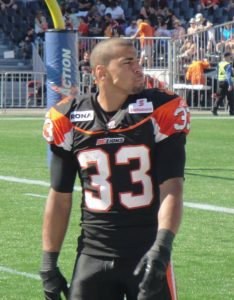 Winnipeg Blue Bombers running back Andrew Harris of Winnipeg, Manitoba was named the Canadian Football League's most outstanding Canadian at the 2017 CFL Awards in Ottawa on Thursday. Harris led the CFL with 1035 rushing yards and was 18th in the CFL in receiving yards with 857. He also had five rushing touchdowns and one receiving touchdown.
Running backs have won six of the last seven most outstanding Canadian awards in the Canadian Football League. Jerome Messam of Brampton, Ontario won the award with the Edmonton Eskimos in 2011 and then with the Calgary Stampeders in 2016. Jon Cornish also won the award three straight years with the Stampeders from 2012 to 2014.
Harris has spent the last two seasons with the Blue Bombers. He was a member of the British Columbia Lions for his first seven CFL seasons from 2009 to 2015.
Harris was also one of two Winnipeg Blue Bombers to win CFL Awards in 2017. He was joined by Blue Bombers offensive tackle Stanley Bryant, who won the most outstanding offensive lineman award. Other winners of the CFL Awards in 2017 include Mike Reilly of the Edmonton Eskimos (most outstanding player), linebacker Alex Singleton of the Calgary Stampeders (most outstanding defensive player), running back James Wilder of the Toronto Argonauts (most outstanding rookie) and Marc Trestman of the Toronto Argonauts (Annis Stukus winner for best coach).