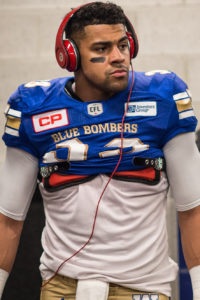 Two Canadians recorded touchdowns on winning teams in week 11 of the 2021 Canadian Football League regular season. Winnipeg Blue Bombers running back Andrew Harris of Winnipeg, Manitoba and Calgary Stampeders wide receiver Luther Hakunavanhu of Edmonton, Alberta each had touchdown catches for their respective teams.
Harris had one catch for a five-yard touchdown from quarterback Zach Collaros with three minutes and 20 seconds left in the first half in a 26-16 Blue Bombers win over the Edmonton Elks. It was Harris's only catch of the game to go along with six catches for 39 yards. Harris's touchdown put the Blue Bombers up 9-5 at the time. Unfortunately for Harris, he was injured on the play. He left the game with a sore knee and did not return.
In 2021, Harris has 116 rushes for 623 yard and three touchdowns, along with 11 catches for 116 yards and another touchdown. The Bluer Bombers have the best record in the CFL at nine wins and one loss, and have a clinched a playoff spot already.
Hakunavanhu had a 16 yard touchdown catch with 1:28 left in the first quarter to tie the game at six. The Stampeders went on to beat the British Columbia Lions convincingly 39-10. Hakunavanhu ended the game with three catches for 56 yards, and has seven catches for 144 yards and a touchdown in 2021. Calgary has now won three games in a row and have improved to five wins and  five losses.