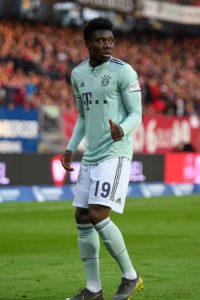 It has been quite the 2020 for Canadian soccer star Alphonso Davies of Edmonton, Alberta. Now he can add the Champions League to his resume. When Bayern Munich defeated Paris Saint-Germain 1-0 on Sunday in the Champions League Final from Lisbon, Portugal, Davies became the first Canadian soccer player ever to win Europe's most coveted annual team competition. Among those who have congratulated Davies have been Canadian Prime Minister Justin Trudeau and Drake.
The other accomplishments for Davies in 2020 have included winning the Bundesliga title with Bayern Munich, and being named the Bundesliga rookie of the year. At this time he is also the heavy favourite to win the Lou Marsh Award as Canada's athlete of the year and the Lionel Conacher Award as Canada's male athlete of the year. Before Davies wins the awards, we need to wait and see how Milos Raonic of Thornhill, Ontario, Felix Auger-Aliassime of Montreal, Quebec, and Denis Shapovalov of Toronto, Ontario do at the U.S. Open in September.
In eight Champions League games during the 2019-20 season, Davies had four assists. He registered two helpers in a 3-1 win over Tottenham on December 11, and one assist each in a Bayern Munich's 3-0 win over Chelsea on February 25, and in an 8-2 win over FC Barcelona on August 14. It was Davies' assist in the game against Barca that has the entire soccer world buzzing. He went by several FC Barcelona players and delivered a crisp pass to teammate Joshua Kimmich.