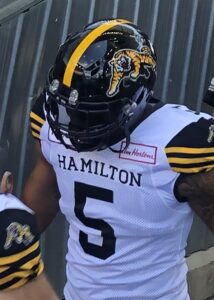 Montreal Alouettes defensive lineman Adrian Tracy of Fairfax, Virginia announced his retirement from the Canadian Football League at age 32 on Monday according to the Canadian Press. Tracy never had the chance to play for the Alouettes, as he signed with the Montreal Alouettes from the Hamilton Tiger-Cats on February 13, 2020. However, the 2020 Canadian Football League season was cancelled because of coronavirus.
In four seasons with the Tiger-Cats from 2016 to 2019, Tracy had 139 tackles (131 defensive tackles and eight special teams tackles), nine pass deflections, five forced fumbles, two fumble recoveries for 19 yards, 20 sacks, and two interceptions for 23 yards. In 2019, Tracy's last CFL season, he had three sacks, 11 defensive tackles, and two forced fumbles.
In addition to his four seasons with the Tiger-Cats, Tracy spent the 2012 season with the New York Giants after being drafted in the sixth round, 184th overall, by the Giants in the 2010 National Football League Draft. In 16 games, Tracy had one forced fumble, one sack, 12 combined tackles (nine solo tackles and three assisted tackles), one quarterback hit, and one tackle for a loss. He had his lone NFL forced fumble in a 41-34 Giants win over the Tampa Bay Buccaneers on September 16, 2012, and had his lone NFL sack in a 26-3 Giants win over the San Francisco 49ers on October 14, 2012.
Tracy is reportedly expected to remain in Canada despite his retirement from the CFL and the fact he is American. That is because he is reportedly married to Kayla-Marie Tracy, who is a reporter for CP24 in Toronto, Ontario.