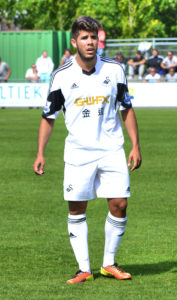 Major League Soccer came out with its best 11 list for 2020 on Friday, and Toronto FC was represented by midfielder Alejandro Pozuelo of Sevilla, Spain. This was the second straight year that Pozuelo was named to the MLS's top 11, as he also received the honour in 2019.
In 24 games during the MLS regular season, and the special MLS is Back Tournament at Walt Disney World, Florida, in the spring, Pozuelo had nine goals and 10 assists. His most notable game came in the MLS is Back Tournament when he had three assists in a 4-3 Toronto FC win over the Montreal Impact on July 16. Pozuelo also set up two of the three goals in the match which were scored by Ayo Akinola.
Pozuelo and Akinola tied for the Toronto FC lead this season in goals with nine. Pozuelo also led the team in assists with 10, shots with 52, and shots on goal with 25.
Toronto FC now enters the MLS Playoffs as the second seed in the Eastern Conference. They had a regular season record of 13 wins, five losses, and five draws for 44 points. Their first round opponent will be the expansion team of Nashville SC, and it will take place on Tuesday.
On Friday night, Nashville SC defeated Inter Miami CF 3-0 in the MLS playoff play-in round. In the other MLS play-in round game, the Montreal Impact lost to the New England Revolution 2-1.
In the last couple of months, Toronto FC, the Montreal Impact, and the Vancouver Whitecaps have had home games in the United States due to the border closure of Canada and the United States. Toronto FC is based in Hartford, the Impact are based in New Jersey, and the Whitecaps are based in Portland.