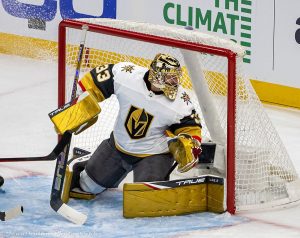 Adin Hill of Comox, British Columbia recorded his sixth career National Hockey League shutout on Saturday as the Vegas Golden Knights smoked the Colorado Avalanche 7-0. Hill made 12 saves in the first period, 12 saves in the second period, and 17 saves in the third period.
The Golden Knights were prolific offensively and defensively in the contest, and beat a formidable opponent in the process, as the Avalanche won the 2022 Stanley Cup over the Tampa Bay Lightning. Mark Stone of Winnipeg, Manitoba led the Golden Knights in scoring with four points, as he had two goals and two assists. Stone was one of two Canadians to score for the Golden Knights. The other Canadian to cross the goal line with a shot on goal was left winger William Carrier of LaSalle, Quebec. Meanwhile, a third Canadian had a multi-point game as Chandler Stephenson of Saskatoon, Saskatchewan had two assists.
This was Hill's first shutout with the Golden Knights. Three shutouts have come with the Arizona Coyotes and two have come with the San Jose Sharks. In 2023-24, Hill has a record of six wins and one loss in extra time. He has a goals against average of 1.81 and a save percentage of .938.
The Golden Knights lead the NHL with 23 points so far. They have a record of 11 wins and an overtime loss.