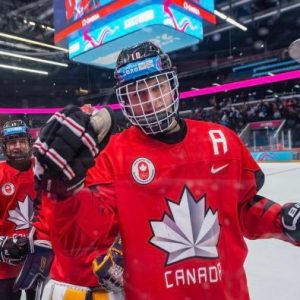 University of Michigan Wolverines center Adam Fantilli of Toronto, Ontario won the 2023 Hobey Baker Award on Friday. It is awarded to the best college hockey player at the National Collegiate Athletic Association level in the United States. This past season, Fantilli had 30 goals and 35 assists for 65 points in 36 games with the Wolverines. Fantilli also had 67 penalty minutes and was a +31.
In addition to playing for Michigan, Fantilli was also on the Canadian team that won the gold medal at the 2023 World Junior Hockey Championship in Halifax, Nova Scotia. In seven games, Fantilli had two goals and three assists for five points.
The first 10 Hobey Baker Award winners were Bowling Green University left winger George McPhee of Guelph, Ontario (1982), University of Minnesota-Duluth right winger Bill Watson of Pine Falls, Manitoba (1985), University of North Dakota center Tony Hrkac of Thunder Bay, Ontario (1987), University of Maine left winger Scott Pellerin of Shediac, New Brunswick (1992), University of Maine left winger Paul Kariya of Vancouver, British Columbia (1993), University of Michigan center Brendan Morrison of Pitt Meadows, British Columbia (1997), University of New Hampshire center Jason Krog of Fernie, British Columbia (1999), University of Minnesota-Duluth right winger Junior Lessard of Saint-Joseph-de-Beauce, Quebec (2004), University of North Dakota left winger Ryan Duncan of Calgary, Alberta (2007), and University of Massachusetts Amherst defenseman Cale Makar of Calgary (2019). The 2023 NCAA Hockey Championship final takes place on Saturday in Tampa, Florida. The University of Minnesota Golden Gophers faces the Quinnipiac University Bobcats.