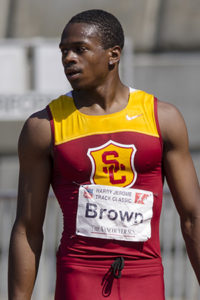 Two-time Olympic medalist Aaron Brown of Toronto, Ontario won a bronze medal in the men's 200 metres at a Diamond League event in Doha, Qatar on Friday. It was the first Diamond League event of the season.
Brown posted a third place time of 20.2 seconds. Fred Kerley of the United States won the gold medal with a time of 19.92 seconds. Kenneth Bednarek of the United States won the silver medal with a time of 20.11 seconds. Brown reached the podium by .09 seconds over Kyree King of the United States, who had a fourth place time of 20.29 seconds.
Brown was one of two Canadians to compete in the men's 200 metre race in Doha. Andre de Grasse of Scarborough, Ontario, the reigning Olympic gold medalist in the event, finished sixth.
Brown's two Olympic medals came in the men's 4×100 metre relay. At the 2016 Olympic Games in Rio de Janeiro, Brown won the bronze medal alongside Akeem Haynes of Calgary, Alberta, Brendon Rodney of Etobicoke, Ontario, and de Grasse. At the 2020 Olympic Games in Tokyo in 2021, Brown won the silver medal alongside Jerome Blake of Burnaby, British Columbia, Rodney and De Grasse. The bronze medal in Qatar will give Brown confidence as he prepares for the 2024 Olympic Games in Paris.