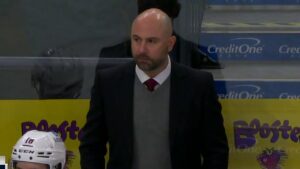 According to Josh Gold-Smith and Kyle Cushman of The Score on Sunday, the Columbus Blue Jackets have named Pascal Vincent of Laval, Quebec as their new head coach. Vincent takes over from Mike Babcock of Manitouwadge, Ontario, who resigned after allegations that he requested to see the pictures on player cell phones, and projected the images on a larger screen.
Babcock was hired as the Blue Jackets head coach on July 1, but had not coached a single game for them. He also left the Toronto Maple Leafs on a sour note in 2019, amid allegations there was a "toxic environment" and "mental abuse towards players" in Toronto while in charge as the head coach there according to Andrew Bucholtz of awfulannouncing.com.
As a player, Vincent played four seasons in the Quebec Major Junior Hockey League with the Saint-Jean Castors, Saint-Jean Lynx, Laval Titan and Verdun College-Francais from 1988 to 1992. Vincent also played one year of professional hockey with the Knoxville Cherokees of the ECHL in 1992-93.
As a coach, Vincent spent seasons in the National Hockey League as an assistant coach. He was with the Winnipeg Jets from 2011 to 2016. Over the last two seasons, Vincent has been an associate coach for the Blue Jackets.