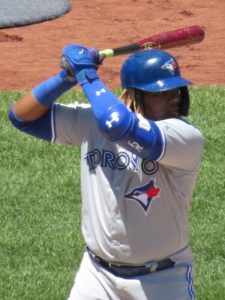 The Toronto Blue Jays have swept the Boston Red Sox for the second time this season. After initially sweeping the Red Sox from August 4 to August 6 at Fenway Park, the Blue Jays swept the Red Sox again. This time at Rogers Centre, where Toronto won by scores of 3-0 on September 15, 4-3 on September 16, and 3-2 on September 17. The three-game sweep of the Red Sox in the middle of September came after the Blue Jays were swept in four straight games by the Texas Rangers.
On Friday night, the Blue Jays got a three-run home run by first baseman Vladimir Guerrero of Montreal, Quebec in the third inning, and seven innings of shutout baseball from Jose Berrios, who had eight strikeouts, zero walks, and gave up only five hits. Jordan Romano of Markham, Ontario picked up the save as he had two strikeouts in the ninth inning.
On Saturday afternoon, the Blue Jays gave up two earned runs in seven innings for the quality start. Once again, Guerrero homered as Toronto won in 13 innings. Then on Sunday, the Blue Jays got a home run from left fielder Daulton Varsho, and a double and triple from third baseman  Matt Chapman.
With the three wins, the Blue Jays improve to a record of 83 wins and 67 losses. They also have the second wildcard spot in the American League. Toronto leads the Texas Rangers by half a game (Texas has the third wildcard spot), and the Seattle Mariners by a game and a half for a playoff spot.