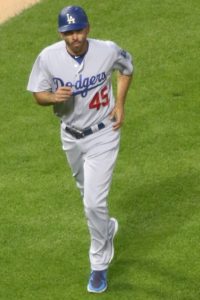 Former Toronto Blue Jays shortstop Chris Woodward was named the new manager of the Texas Rangers on Monday. Woodward was originally drafted in the 54th round by the Blue Jays in the 1994 Major League Baseball Draft before playing seven seasons with Toronto from 1999 to 2004 and again in 2011.
While with the Blue Jays, Woodward batted .245 with 26 home runs and 135 runs batted in during 1077 at bats. While with the Blue Jays in 2002, Woodward had career highs in home runs (13), stolen bases (three), and slugging percentage (.468). The following season in 2003, Woordward had career highs in runs (49), hits (91), doubles (22), walks (28). Also while with the Blue Jays in 2002 and 2003, he had a career high 45 runs batted in, and while with the Blue Jays in 2002 and 2004, he had a career high four triples.
After playing for the Blue Jays the first time in 2002, Woodward played two seasons each with the New York Mets and Seattle Mariners and one season each with the Boston Red Sox and Atlanta Braves. Woodward retired as a Blue Jay in 2011.
As a coach, Woodward spent two seasons with the Mariners as their infield coach, and the last three seasons as the third base coach of the Los Angeles Dodgers. Woodward also has managerial experience in international baseball. The native of Covina, California was the manager of New Zealand in qualification for the 2017 World Baseball Classic.