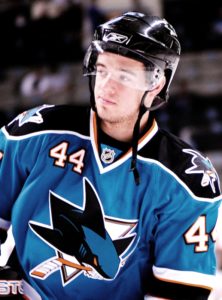 Canadian Olympic gold medalist Marc-Edouard Vlasic of Montreal, Quebec was one of three Canadians to record two points on Wednesday for the San Jose Sharks in a decisive 5-2 win over the Vegas Golden Knights on the opening night of the 2019 Stanley Cup Playoffs. Vlasic, along with Brent Burns of Barrie, Ontario and Evander Kane of Vancouver, British Columbia, each had one goal and one assist. The Sharks now have a 1-0 lead in the best out of seven first round Western Conference series.
Burns was involved in the first two Sharks goals. He assisted on a first period goal by Joe Pavelski and then scored from Erik Karlsson and Tomas Hertl at 6:59 of the second period to put the Sharks up 2-0. Vlasic then scored the game winning goal from Kane and Canadian Olympic gold medalist Joe Thornton of St. Thomas, Ontario at 7:44 of the second period to put the Sharks up 3-0. Then with the Sharks up 3-1, Kane scored from Karlsson and Gustav Nyquist with only 18 seconds left in the middle frame. Hertl then scored into an empty net from Vlasic and Logan Couture of Guelph, Ontario.
In Tampa Bay, the Columbus Blue Jackets came away with an upset 4-3 win to open their series. The Blue Jackets were led in scoring by Josh Anderson of Burlington, Ontario, who notched one goal and one assist. Anderson got an assist on a goal by Nick Foligno at 9:15 of the second period to put Columbus on the scoreboard after they were trailing 3-0 after the first period. He then got a key shorthanded goal from Boone Jenner of Dorchester, Ontario at 11:54 of the third period to tie the game at three goals apiece.
In New York, Jordan Eberle of Regina, Saskatchewan led the Islanders in scoring with one goal and one assist for two points in a 4-3 overtime win over the Pittsburgh Penguins. Eberle opened the scoring from Adam Pelech of Toronto, Ontario and Anders Lee, and then had an assist on a power play goal by Brock Nelson at 15:46 of the first period to put the Islanders 2-1. Devon Toews of Abbotsford, British Columbia picked up the other assist. Josh Bailey of Bowmanville, Ontario then scored the overtime winner from Mathew Barzal of Coquitlam, British Columbia at 4:39.
Thornton won a gold medal for Canada in men's hockey at the 2010 Olympic Winter Games in Vancouver. Vlasic won a gold medal for Canada in men's hockey at the 2014 Olympic Winter Games in Sochi.In other playoff action on Wednesday, the St. Louis Blues beat the Winnipeg Jets 2-1 and the Dallas Stars beat the Nashville Predators 3-2.