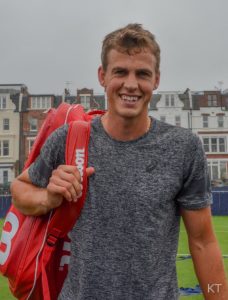 Vasek Pospisil of Vernon, British Columbia reached his second ATP Tour career final on Sunday. Pospisil made the final two in the men's singles draw at the Open Sud de France in Montpellier, before losing to Gael Monfils of France, 7-5, 6-3.
Pospisil had a formidable showing against Monfils, who was the first ranked player in the tournament. Monfils, is a two-time grand slam semifinalist, as he reached the final four at the 2008 French Open and the 2016 United States Open.
Pospisil reached the final in Montpellier by beating Aljaz Bedene of Slovenia 6-3, 6-4 in the first round, third ranked Denis Shapovalov of Toronto, Ontario 6-2, 6-3 in an all-Canadian second round match, three-time grand slam semifinalist Richard Gasquet of France 6-1, 1-0 in the quarterfinals and second ranked David Goffin of Belgium 6-3, 1-6, 7-5. Gasquet, who reached the semifinals of the 2013 U.S. Open, as well as Wimbledon in 2007 and 2015, pulled out of the tournament with an injury.
Pospisil previously reached the final of the 2014 Citi Open in Washington, D.C., but lost 6-1, 6-4 to Milos Raonic of Thornhill, Ontario. That was memorable because it was the first and only all-Canadian final in ATP Tour history.
Canada's best tennis players will now be at the 2020 Rotterdam Open in the Netherlands starting Monday. In the first round, Pospisil will play the number one seed and 2019 United States Open finalist Daniil Medvedev of Russia, Shapovalov, the eighth seed, will play three-time grand slam semifinalist Grigor Dimitrov of Bulgaria, and Felix Auger-Aliassime of Montreal, Quebec, will play Jan-Lennard Struff of Germany. Dimitrov has reached the final four at the 2014 Wimbledon, 2017 Australian Open and 2019 United States Open.