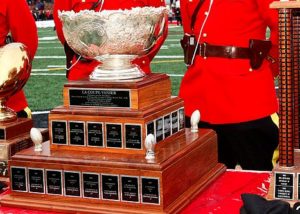 The University of British Columbia Thunderbirds will face the University of Montreal Carabins in the 2023 Vanier Cup in Kingston, Ontario on Saturday. The Thunderbirds won the 2023 Mitchell Bowl yesterday after defeating the University of St. Francis Xavier X-Men 47-17 at Thunderbird Stadium in Vancouver, British Columbia. The Carabins won the 2023 Uteck Bowl a day ago after defeating the University of Western Mustangs 29-3 at CEPSUM Stadium in Montreal, Quebec.
The Thunderbirds were led by wide receiver Sam Davenport of Abbotsford, British Columbia, running back Isaiah Knight of Ottawa, Ontario, and quarterback Garrett Rooker. Davenport had eight catches for 139 receiving yards and two touchdowns, Knight had 17 rushes for 115 yards, and Rooker completed 22 of 26 passes for 303 passing yards and four touchdowns.
The Carabins were led by quarterback Jonathan Senecal of Montreal, Quebec and kicker Philippe Boyer of Laval, Quebec. Senecal completed 21 of 31 passes for 228 passing yards and one touchdown, along with six rushes for 38 rushing yards. Boyer meanwhile successfully kicked four field goals.
The Thunderbirds have won four Vanier Cups. The titles came in 1982, 1986, 1997 and 2015. The Carabins have won one Vanier Cup. That title came in 2014. The Thunderbirds beat the Carabins 26-23 in the 51st Vanier Cup in 2015. That Canadian University Football Championship final came in Quebec City, Quebec.