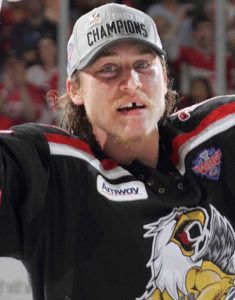 Tyler Bertuzzi of Sudbury, Ontario recorded his first career hat trick on Saturday. He recorded the personal milestone in a 5-2 win by the Detroit Red Wings over the Minnesota Wild at the Xcel Energy Center in St. Paul, Minnesota.
Bertuzzi recorded his first goal of the hockey game only 24 seconds into the first period. It came from Gustav Nyquist and Dylan Larkin to put the Red Wings up 1-0. Bertuzzi then scored early in the third period (at the 47 second mark) from Larkin and Mike Green of Calgary, Alberta, to put the Red Wings up 4-2. Bertuzzi's hat trick came at 8:38 of the third period with Nyquist and Larkin once again picking up assists.  Former Vancouver Canucks left winger Thomas Vanek scored the other two goals for the Red Wings.
On the season, Bertuzzi has 13 goals and 12 assists for 25 points in 45 games. He is a +4 with 28 penalty minutes, two power play points, two game winning goals, 68 shots on goal, 10 faceoff wins, 27 blocked shots, 49 hits, 21 takeaways and 25 giveaways.
If the last name of Bertuzzi is familiar, it should be. His uncle Todd played 18 NHL seasons including eight seasons for the Canucks and one season for the Calgary Flames. He had 770 points in 1159 NHL career games while also playing for the Red Wings, Florida Panthers, New York Islanders and Anaheim Ducks. In 2002-03 with the Canucks, Bertuzzi led the NHL with 25 power play goals and had a career high 97 points, the fifth most in the NHL. Todd Bertuzzi was also a first-team NHL All-Star in 2003 and represented the Canucks at two NHL All-Star Games in 2003 and 2004. Todd Bertuzzi meanwhile had five career NHL hat tricks.