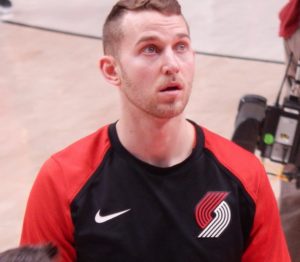 The Portland Trail Blazers traded shooting guard Canadian basketball player Nik Stauskas of Mississauga, Ontario to the Cleveland Cavaliers on Sunday. The Cavaliers also received point guard Wade Baldwin IV and two second round draft picks for shooting guard Rodney Hood.
The Cavaliers become Stauskas's fifth team in the National Basketball Association. In addition to the Portland Trail Blazers, Stauskas has played for the Sacramento Kings, Philadelphia 76ers and Brooklyn Nets. In 44 games, Stauskas is averaging 6.1 points per game, 1.8 rebounds per game, 1.4 assists per game in 15.3 minutes per game.
Expect Stauskas to have a much greater role with the Cavaliers. There is no doubt that Cleveland is in a rebuilding mode with a record of 11 wins and 42 losses, and clearly miss superstar LeBron James who signed with the Los Angeles Lakers this past offseason. Stauskas is now one of two NBA players with Cleveland. The other is Tristan Thompson of Toronto, Ontario.
Both Stauskas and Thompson are dealing with injuries at the moment. Stauskas has been out with a knee injury and Thompson is listed to be out with a foot injury for the next two weeks.
The Trail Blazers meanwhile have the fourth best record in the Western Conference. They currently have a record of 32 wins and 20 losses and are five games back of the first place Denver Nuggets and Golden State Warriors.