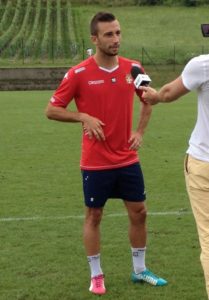 Toronto FC is in the final of the 2019 MLS Cup. On Wednesday from Mercedes-Benz Stadium in Atlanta, Georgia, Toronto FC came through with an impressive 2-1 road victory over Atlanta United FC. With the win, Toronto FC will now play the Seattle Sounders in the MLS Cup Final for the third time in four years.
Toronto FC got goals in their win over Atlanta from Nicolas Benezet of Montpellier, France and Nick DeLeon of Phoenix, Arizona. Atlanta's lone goal came from Julian Gressel of Neustadt an der Aisch, Germany.
Gressel opened the scoring for Atlanta in the fourth minute. Then in the 11th minute, Toronto FC goalkeeper Quentin Westberg of Paris, France made a gigantic save off a penalty kick by Josef Martinez. It could go down as one of the biggest saves made by a Toronto FC goalkeeper in franchise history. The save meant Toronto FC was still only down by one goal with 79 minutes to take the lead. Benzet would then tie the game three minutes later in the 14th minute and DeLeon would score the game winning goal with 12 minutes left.
The Sounders will host Toronto FC in the MLS Cup Final on November 10. They beat Los Angeles FC 3-1 in the Western Conference Final on October 29. The Sounders beat Toronto FC on April 13 in their only meeting this season.
In the previous two MLS Cups between Seattle and Toronto, the Sounders won 5-4 on penalties in 2016 and then Toronto FC won 2-0 in 2017. Both games were played at BMO Field in Toronto.