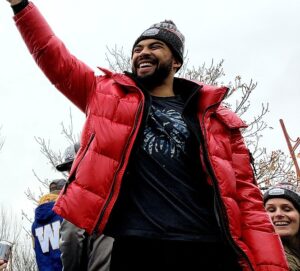 Three Canadians recorded touchdowns on winning teams in week seven of the 2021 Canadian Football League regular season. On Friday, Kian Schaffer-Baker of Guelph, Ontario and Brayden Lenius of Regina, Saskatchewan both found the end zone in a 30-16 Saskatchewan Roughriders win over the Toronto Argonauts. Then on Saturday, Nic Demski of Winnipeg, Manitoba recorded a touchdown for the Winnipeg Blue Bombers in a 37-22 win over the Edmonton Elks.
In Saskatchewan's win over Toronto, Schaffer-Baker and Lenius, who are both wide receivers, had touchdown catches from Roughriders quarterback Cody Fajardo. Lenius had his touchdown on a 12-yard catch at 6:05 of the second quarter, which put Saskatchewan up 14-3 at the time. Schaffer-Baker had his touchdown on a 24-yard catch, 30 seconds into the fourth quarter, which put the Roughriders up 24-9 at the time.
Schaffer-Baker recorded his first CFL touchdown. He has nine catches for 99 yards. Lenius had two catches for 21 yards.
In Winnipeg's win over Edmonton, Demski had a 21-yard run for a touchdown. He did a marvelous job in getting by the Edmonton defenders, who were trying to force a fumble rather than record the tackle. Even though Demski is a wide receiver, this was his fourth rushing touchdown since 2019.
The Blue Bombers and Roughriders are first and second in the West. Winnipeg is at 6-1, and Saskatchewan is at 4-2.