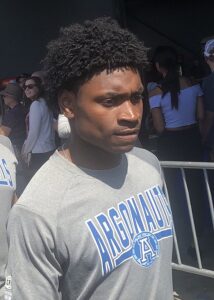 Three Canadians recorded touchdowns on winning teams in the Canadian Football League in week 15 of the regular season which concluded on Saturday. On Friday night, Kurleigh Gittens Jr. of Ottawa, Ontario had a touchdown catch for the Toronto Argonauts, and on Saturday afternoon, Kian Schaffer-Baker of Guelph, Ontario, and Alexandre Dupuis of Montreal, Quebec each had touchdowns for the Saskatchewan Roughriders.
Gittens Jr., a wide receiver, had a 12-yard touchdown catch from McLeod Bethel-Thompson with 10 minutes and 34 seconds left in the game in a 31-12 Argonauts win over the Hamilton Tiger-Cats. At the time, the Argonauts went up 23-3. In the game, Gittens Jr. had seven catches for 72 yards and one touchdown. On the season, Gittens Jr. a Wilfrid Laurier product, now has 50 catches for 605 yards and four touchdowns. With the win, the Argonauts clinched first place in the East Division with a record of nine wins and four losses.
Schaffer-Baker, a wide receiver, and Dupuis, a fullback, each had touchdown catches on Sunday from quarterback Cody Fajardo in a 29-24 Roughriders win over the Edmonton Elks. Schaffer-Baker had a six-yard catch at 8:15 of the first quarter, which tied the game at seven points each at the time. Dupuis's touchdown was a four-yard catch with six minutes and 28 seconds left in the game, and put Saskatchewan up 26-21 at the time.
Schaffer-Baker had four catches for 24 yards in the game. He now has 45 catches for 550 yards and two touchdowns in 2021. Dupuis meanwhile has three catches for 12 yards on the season, and recorded the first touchdown of his CFL career. Dupis has played 85 games over six seasons with the Argonauts, Roughriders, and Edmonton Eskimos. With the win, the Roughriders clinched second place in the West Division, and will host the Calgary Stampeders in the West Division semi-final on November 28.