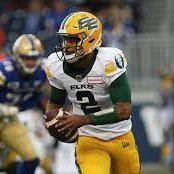 Three Canadians contributed to week 12 touchdowns on winning teams in the Canadian Football League this past weekend. They were Edmonton Elks quarterback Tre Ford of Niagara Falls, Ontario, Winnipeg Blue Bombers running back Brady Oliveira of Winnipeg, Manitoba, and Toronto Argonauts running back Andrew Harris of Winnipeg.
Oliveira had a touchdown catch and a touchdown run in a 47-17 Blue Bombers win over the Montreal Alouettes on Thursday.  Oliveira's touchdown run was for 26 yards and came with 1:04 left in the second quarter to give Winnipeg a 20-17 lead. Oliveira's touchdown catch was for six yards from quarterback Zach Collaros with 10:47 left in the fourth quarter and gave Winnipeg a 43-17 lead. Oliveira had 18 rushes for 119 rushing yards and one catch for six yards. On the season, he has 158 rushes for 902 rushing yards and four touchdown rushes, alongside 22 catches for 299 receiving yards and two touchdown catches. With the win, the Blue Bombers improved to a record of nine wins and two losses and are in first place in the West.
Harris had a nine-yard touchdown catch from quarterback Chad Kelly in a 39-31 Argonauts win over the Calgary Stampeders on Saturday. He had three catches for 31 yards and one touchdown and five rushes for 25 yards. On the season, he has 38 rushes for 183 rushing yards and one touchdown, and eight catches for 70 yards and another major score. Toronto improved to eight wins and one loss and lead the East.
Ford had a touchdown pass and a touchdown run in a 30-20 Edmonton Elks win over the Ottawa Redblacks on Sunday. He had an eight-yard touchdown run with one minute and nine seconds into the second quarter to give Edmonton a 6-1 lead. Ford then had a 66-yard touchdown pass to Eugene Lewis with 22 seconds left in the first half to give Edmonton a 16-5 lead. This was Edmonton's first home win since October 12, 2019 when they beat the British Columbia Lions 19-6.
On Sunday, Ford completed 15 of 18 passes for 317 yards and one touchdown pass. He also had 10 rushes for 74 rushing yards and another major score. In 2023, Ford has completed 40 of 52 passes for 680 passing yards, four touchdowns and one interception. Ford also has 20 rushes for 184 rushing yards and two more major scores.