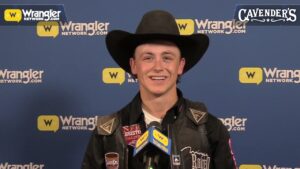 Pool A completed at the Calgary Stampede on Sunday, and Pool B commenced on Monday. As we begin Pool B play, three Canadians cowboys are in the lead. They are Coy Robbins of Camrose, Alberta, Logan Hay of Wildwood, Alberta, and Scott Guenthner of Provost, Alberta.
In the saddle bronc, Hay posted the best score on One More Reason with 87.5 points. He was one of two Canadians in the top three, as Layton Green of Millarville, Alberta on Monster Inc finished in third place with 85.5 points. Ross Griffin of Tularosa, New Mexico finished in second place with a score of 86 points on Elapsing Moon.
In the bull riding, Robbins posted the best score of 85 points on the bull Slobber Knocker. Ky Hamilton of Mackay, Australia was in second place with 80.5 points on the bull Later Gator. Tristen Hutchings of Monteview, Idaho was in third place with 79 points on the bull Bob's Your Uncle. Jared Parsonage of Maple Creek, Saskatchewan was in forth place with 78.5 points on the bull Toothless Smile.
In the steer wrestling, Guenther posted the fastest time of 3.3 seconds. Will Lummus of Byhalia, Mississippi was second with a time of 3.6 seconds. Tristan Martin of Sulphur, Louisiana was third with a time of 3.7 seconds. Jonny Webb of Okotoks, Alberta was in fourth with a time of 3.8 seconds.
In the Rangeland Derby, Codey McCurrach of Condor, Alberta had the fastest chuckwagon racing time on Monday of 1:11.12. Kurt Bensmiller of Dewberry, Alberta is the aggregate leader with a time of four minutes and 46 seconds. Chanse Vigen of Calgary, Alberta has the fastest overall run time of four minutes, 45.03 seconds, but has two seconds worth of penalties, for a total time of four minutes, 47.03 seconds.