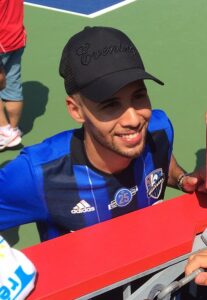 All three Canadian Major League Soccer teams have advanced to the round of 16 of the 2020 MLS is Back Tournament in Orlando, Florida. On Tuesday, the Montreal Impact defeated D.C. United 1-0, and on Thursday, the Vancouver Whitecaps beat the Chicago Fire 2-0. The Impact and Whitecaps are joined by Toronto FC, who tied the New England Revolution at zero in their final Group C contest on Tuesday.
With the wins, the Impact and Whitecaps were among the top four third-place teams in the tournament. Both squads had a record of one win and two losses. The Impact got their goal against D.C. United from Algerian central midfielder Saphir Taider, who scored a goal on a sensational strike from outside the box.
The Whitecaps meanwhile got second-half goals from Yordy Reyna of Chiclayo, Peru, and Cristian Dajome of Bogota, Colombia in their win over the Fire. The fact Vancouver advanced to the round of 16 is remarkable, when you consider the fact they had to win by two goals over Chicago to advance, and they did just that. Both goals came after a second-half thunderstorm, which delayed the match for an extended period of time.
All three Canadian teams have their round of 16 matches this weekend. The Impact plays first as they take on Orlando City SC on Saturday evening. Orlando SC won Group A with a record of two wins and one draw.
Then on Sunday evening, Toronto FC, which won Group C with a record of one win and two draws for five points, plays New York City FC. Toronto's American opponent finished third in Group A with a record of one win and two losses. Toronto FC will be followed by the Whitecaps, which will play Sporting Kansas City. Vancouver's American opponent won Group D, with a record of two wins and one loss.