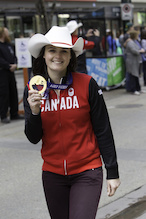 Canadian Olympic gold medalist Marielle Thompson of Vancouver, British Columbia won the silver medal in a women's World Cup ski cross event in Innichen, Italy on Saturday. For Thompson, it was her second World Cup medal of the season as she also won the bronze medal in Arosa, Switzerland on Dec. 17.
Sandra Naeslund of Sweden won the gold medal in Innichen. Sanna Luedi of Switzerland won the bronze medal and Marielle Berger Sabbatel of France finished in fourth place.
Thompson began the third quarterfinal heat in a heat that also featured two Canadians. They were Mikayla Martin of Squamish, British Columbia and India Sherret of Cranbrook, British Columbia. Thompson and Martin advanced to the semifinals, while Sherret did not advance as she did not finish her heat. Thompson then won her second semifinal to reach the final, while Martin finished an impressive sixth overall.
Thompson, who won a gold medal for Canada in women's ski cross at the 2014 Olympic Winter Games in Sochi,is currently in second place in the World Cup women's ski cross standings with 823 points. Naeslund leads with 893 points. In the men's World Cup ski cross race on Saturday, Joos Berry of Switzerland won the gold medal. He was followed by silver medalist Bastien Midol of France and bronze medalist Jonathan Midol of France. The gold medal for Thompson will give her confidence as she prepares for the 2022 Olympic Winter Games in Beijing.